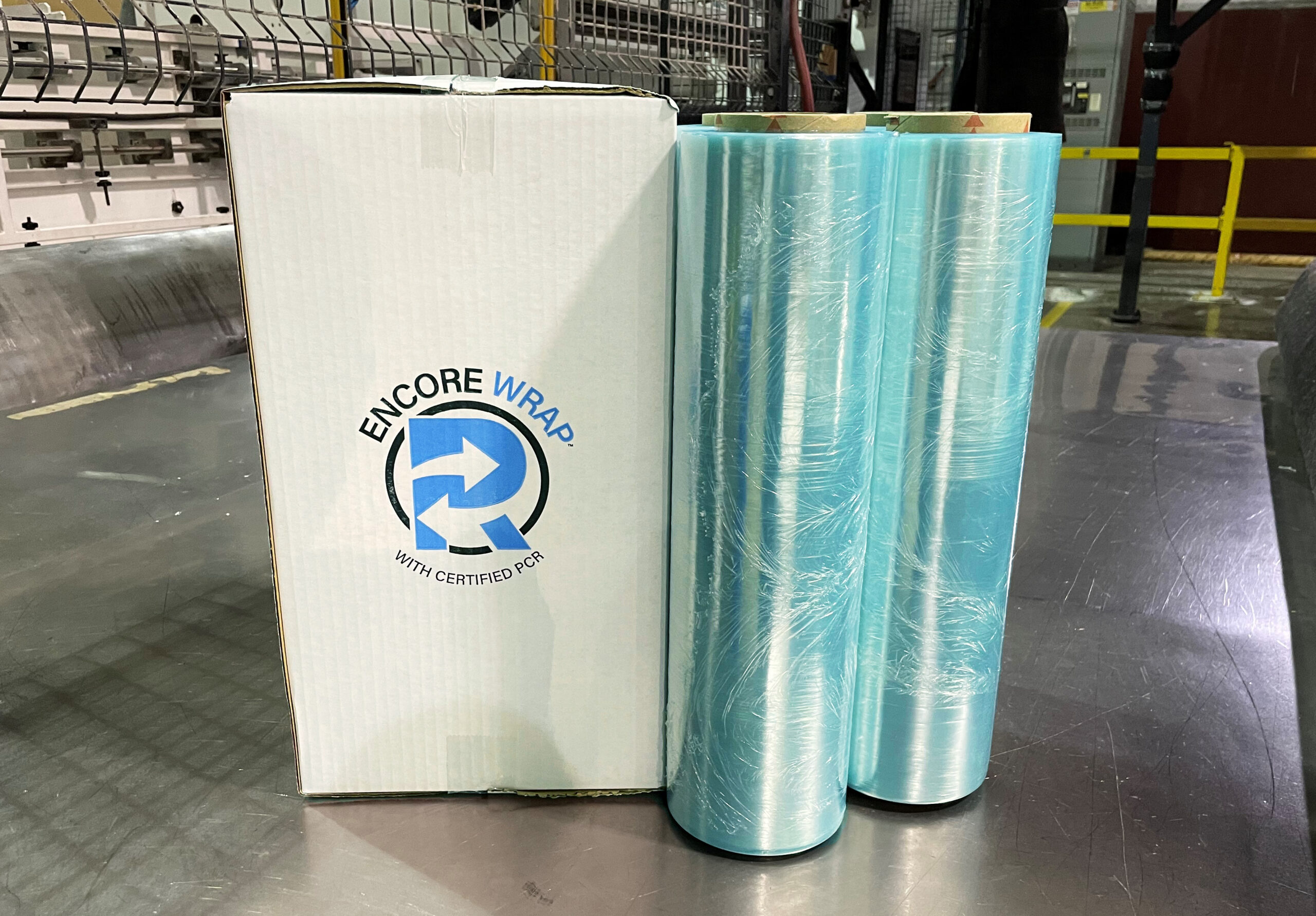 Development of Encore Wrap™ Increases Clarity While Providing Sustainability
Revolution continues its quest to redefine the possibilities for sustainable plastic solutions with the introduction of Encore Wrap™, a high-performance hand stretch film made with 10 percent post-consumer recycled (PCR) resin. The product recently received certification from Scientific Certification Systems Inc. (SCS) Global Services, a leading certifying body for environmental practices, making it the only certified PCR stretch film on the market.
The new hand stretch film contains Revolution's proprietary, third-party certified Encore® PCR which produces a higher quality of clarity and strength than traditionally observed in plastic stretch wrap film that contains PCR. Revolution leveraged its more than 25 years of flexible film manufacturing and recycling experience to incorporate its own Encore® PCR resin into plastic stretch film to deliver an effective, sustainable solution that can help the warehousing, transportation and commercial industries reduce their environmental impact and achieve sustainability goals.
The Encore Wrap™ material portrays a light blue tint in roll form that is recognizable as Revolution's certified Encore® PCR resin but retains a high clarity when applied to a pallet. Revolution's upgraded multi-layered plastic stretch film is stiff cast with a quiet release and provides exceptional strength with resins designed to provide maximum load holding force and high puncture resistance. Customers will discover they can wrap more with less film because the strength allows for gauge reduction. In turn, these factors contribute to overall reduction in materials needed.
Sustainability is at the core of every decision, product and purchase that Revolution makes, thus reducing greenhouse gas emissions and decreasing demand for new materials. The company also collects stretch film waste from distributor clients to support the production of the high quality PCR resin that is incorporated into Encore Wrap™, creating a circular approach to manufacturing and recycling plastic stretch film.
Revolution's vertically integrated business model effectively manages the lifecycle of plastic. By optimizing their sustainability cycle, they create increased value from plastics, while maintaining the smallest carbon footprint possible.
"Revolution's goal to consistently improve our products while remaining true to our core commitment to sustainability has resulted in a game-changing upgrade to our plastic stretch film product line," says Gregg Smith, Vice President of Sustainable Stretch at Revolution. "The development and addition of Encore Wrap™ raises the bar even higher within our industry."
Revolution is committed to the preservation of the planet and works with businesses to forge their own sustainability path. Revolution "redefines possible" for all sizes of companies that are looking to decrease their carbon footprint and build a more sustainable business.
---